Chunks of turkey, carrots, celery, and thick egg noodles come together in this Creamy Turkey Soup to create a perfect after-Thanksgiving meal.
My family looks forward to this soup every bit as much as we look forward to the big turkey with all the sides.
My middle son loves this turkey soup so much that we have labeled it HIS soup and he would happily just drink the broth if I let him.
He calls this "broth soup" because he thinks the turkey broth is "awesomely delicious."
Creamy Turkey Soup
Hearty, comforting, and creamy, turkey soup is a favorite way to use Thanksgiving leftovers. After all the excitement of the holiday meals, the family gatherings and the clean up, it's lovely to sit back and enjoy a warming bowl of Turkey soup.
I've tasted some lackluster soups made with turkey leftovers. This is nothing like some of those watery flavorless soups made by tossing leftover turkey chunks into store-bought broth.
The Creamy Turkey Noodle Soup I'm sharing today is full of flavor from the homemade turkey broth, thickened with flour and butter, plus perfectly cooked tender egg noodles. Noodle soup lovers will love this recipe.
We like turkey soup too much to just eat it only when we have holiday leftovers. I buy several turkeys when they go on sale each year, so that I can make this soup through the year.
Creamy Turkey Soup freezes well and I keep servings of it in the freezer exclusively for my son. That way, on nights when they rest of the family is enjoying spicier soups; he has this option instead.
On the occasion when we don't have turkey in the house to make this soup, it works nicely with chicken as well.
If you're looking for more tasty turkey soup recipes, give this Spicy Southwest Turkey and Four Bean Soup and this Creamy Turkey Green Chile Soup a try too.
Turkey Recipes
Turkey is so much more than just the centerpiece for a Thanksgiving dinner. This Roast Turkey with Wine and Herbs makes for an impressive and delicious dinner any time of year.
We love our turkey but I have to admit that one of my favorite things about making a big roast turkey dinner is the leftovers. Creamy Turkey Soup is a highlight but there are so many delicious turkey recipes for using that leftover bird.
I love leftover this Southwest Turkey Chopped Salad and this Turkey and Walnut Salad with Cranberry Dressing enough to eat them by the bucket full.
Turkey Cranberry Quesadillas wrap the best of Thanksgiving flavor into a hand-held meal and Turkey Pho keeps those turkey leftovers from every being boring.
Leftover Turkey Taquitos are a kid favorite that everyone loves. BBQ Turkey Stuffed Red Potatoes are an unexpected use for leftover turkey that we look forward to every year.
Tender chunks of savory turkey and aromatic vegetables are baked together inside of a flaky pie crust. My whole family gives this Leftover Turkey Pot Pie two big thumbs up!
Turkey Soup Recipe
Making turkey soup starts by simmering a leftover turkey carcass to make broth. (This is my youngest son's favorite part and he would be glad to just slurp the broth straight up.)
You need three quarts of broth to make Turkey Noodle Soup. Any leftover broth I happen to have get stashed in the freezer for future soup recipes.
I add the broth to a pot of vegetables sauteed in butter. A little flour sprinkled over the veggies and butter turns the broth lightly creamy, like a thin gravy. Cooked egg noodles and a helping of real heavy cream add the finishing touches to this turkey noodle soup.
Creamy Turkey Noodle Soup
After adding the cream, you just stir everything together and let it all get warm for a few minutes. Then, it's ready to be poured into bowls and hit the dinner table.
In my opinion, Creamy Turkey Noodle Soup is just the right middle ground between the ultra-thick cream soups like Baked Potato Soup or Creamy Cauliflower Potato Soup and brothier soups like Chicken Tortilla.
Every spoonful of this soup is full of rich egg noodles, creamy flavorful broth, and chunks of carrot and celery. It's a meal all on its own but would also be delicious with a side of crusty bread or oyster crackers.
You can freeze this soup easily. Simply reheat in the microwave or let thaw in the refrigerator to reheat on the stove top. I love making a big batch of this soup to keep in the freezer all winter long.
Nothing is better on a chilly January night than a hot steaming bowl of Turkey soup!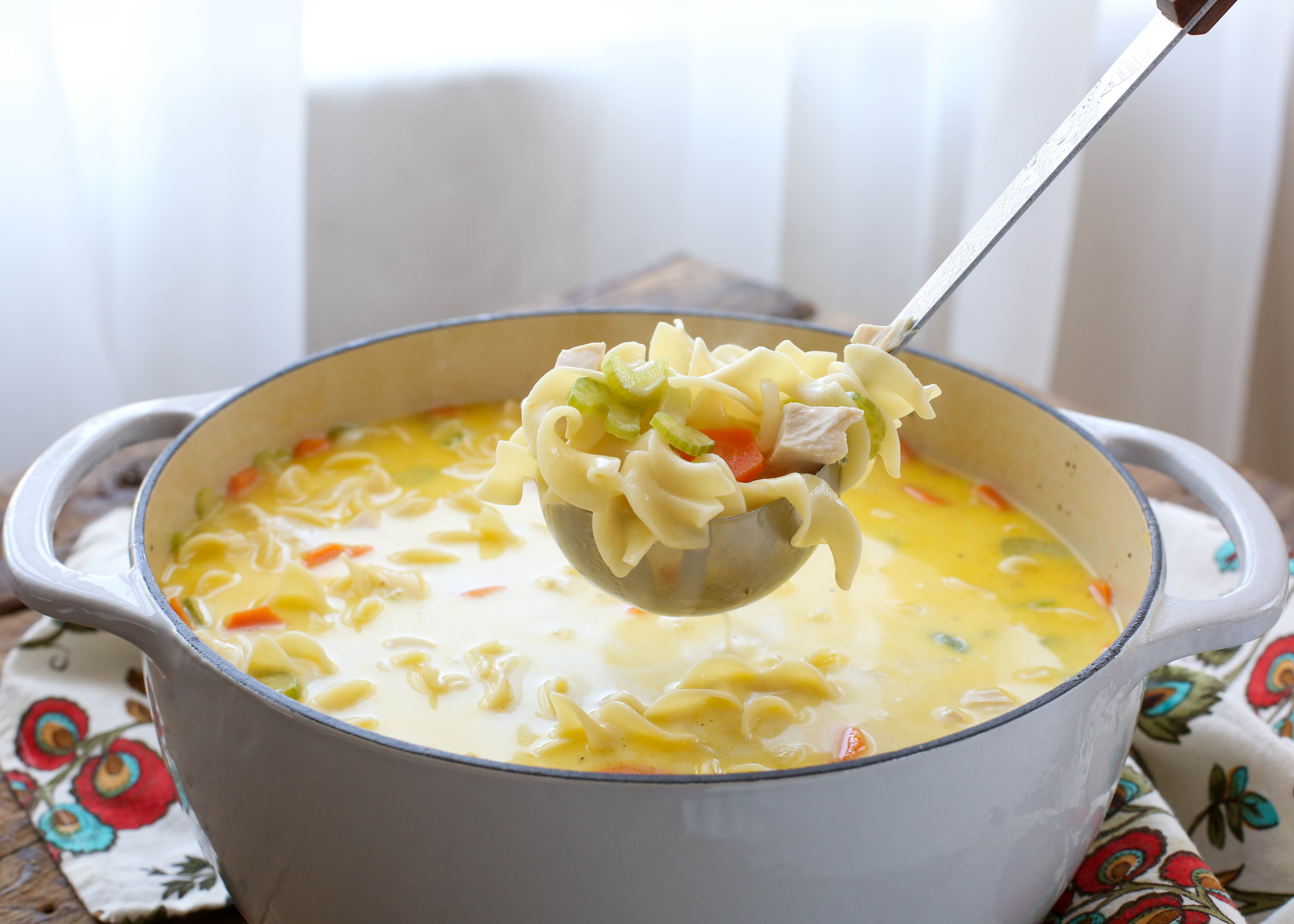 Kitchen Tip: I use this pot (as pictured) to make this recipe.
Creamy Turkey Noodle Soup
Chunks of turkey, carrots, celery, and thick egg noodles come together in this Creamy Turkey Soup to create a perfect after-Thanksgiving meal.
Servings:
8
servings, depending on size
Ingredients
1

leftover turkey carcass

this will make 3+ quarts of broth

3

cups

cooked turkey

diced into bite size pieces

4

tablespoons

butter

1

medium yellow onion

chopped or 1 cup chopped onion

3

large carrots

sliced small or 1 ½ cups sliced carrots

3

celery stalks

sliced small ot 1 ½ cups sliced celery

1/4

cup

all-purpose flour

1

teaspoon

chicken base

chicken bouillon will work also

2

teaspoons

kosher salt

3/4

teaspoon

fresh cracked black pepper

adjust according to taste

2

cups

half and half cream

8-10

oz

egg noodles
Instructions
Place the turkey carcass in a large pot (at least 8 quart) and cover completely with water. Bring the water to a boil and then reduce heat. Cover the pot and simmer for 1 hour. Remove the carcass from the stock in the pot. I find it easiest to place a large strainer over a second large pot. I pour the stock and carcass through the strainer and it removes everything for me. (I don't try to save any of the remaining meat off of the carcass, because I really do not care for the way it tastes after simmering for so long. If you don't notice the change, go ahead and use this meat for the soup.) Set the broth aside to cool. You will need 3 quarts (or 12 cups) of the broth for this soup. I always save and freeze the extra broth for future soups and other recipes.

In a large pot (at least 8 quart), saute the celery, carrots and onion in the butter until they are almost tender. The vegetables will absorb most of the butter at this point. Reduce heat to low and sprinkle the flour over the vegetables. Stir to combine and let the vegetables absorb the flour. Gradually add 4 cups of the reserved broth. Bring this mixture to a boil and cook, stirring constantly for about two minutes, or until thickened.

Add the additional 8 cups of broth, the bouillon, salt, pepper and diced turkey. Reduce the heat to low and simmer for 30 minutes. While the soup is simmering, cook the egg noodles, drain and set aside. (I prefer cooking them separately, because I can more accurately determine how soft they will be.)

After 30 minutes, add the cooked noodles and the cream. Warm over low heat, just to make sure that everything is warm. Enjoy!
Nutrition
Calories:
305
kcal
·
Carbohydrates:
26
g
·
Protein:
14
g
·
Fat:
16
g
·
Saturated Fat:
9
g
·
Polyunsaturated Fat:
1
g
·
Monounsaturated Fat:
5
g
·
Trans Fat:
1
g
·
Cholesterol:
88
mg
·
Sodium:
765
mg
·
Potassium:
242
mg
·
Fiber:
1
g
·
Sugar:
1
g
·
Vitamin A:
434
IU
·
Vitamin C:
1
mg
·
Calcium:
81
mg
·
Iron:
1
mg
{originally published 11/20/2011 – recipe notes and photos updated 11/15/21}